Shopping Basket
Your Basket is Empty
There was an error with PayPal
Click here to try again
Thank you for your business!
You should receive an order confirmation from Paypal shortly.
Exit Shopping Basket
Maryland Licensed Tree Experts

| | |
| --- | --- |
| Posted on 20 October, 2015 at 13:55 | |
The "Black Oak" - Quercus velutina - is also known as the Eastern Black Oak. It was sometime/ formerly called the Yellow Oak, because of the yellow pigment in it's inner bark. It is native to the Eastern and Central United States and is found in every East Coast state from Southern Maine to the Northern panhandle of Florida. It is found as far inland as Ontario, Minnesota, Nebraska, Oklahoma and even Eastern Texas. It is similar in appearance and often confused with the Northern Red Oak, Scarlet Oak and Southern Red Oak. Black Oak is known to hybridize with other members of the Red Oak group, and is a known parent in at least a dozen different named hybrids found today.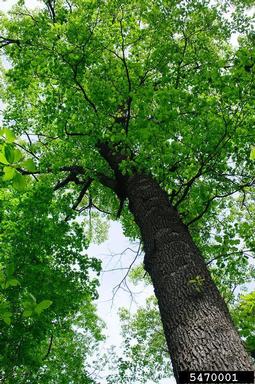 Image Citation (Trunk/Canopy): Vern Wilkins, Indiana University, Bugwood.org
The leaves are simple, alternate, ovate and 4-10 inches long with 5-7 bristle tipped lobes on each one. They are a shiny green in color on the top during the growing season which shifts to a Yellow-Copper color in the Fall.
The Black Oak is monecious, the male flowers are borne on slender yellow to green catkins, while the females are reddish green and borne on short spikes in leaf axils that appear in spring with the leaves.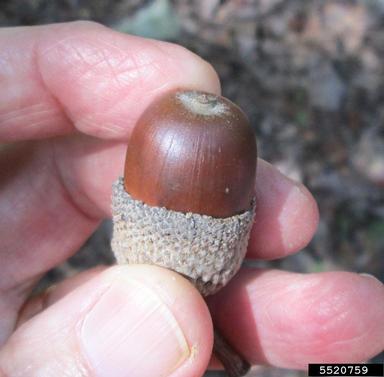 Image Citation (Acorn): David Stephens, Bugwood.org

The fruit, in the form of acorns that are 1/2 to 3/4 inch long, 1/3 to 1/2 of the Acorn is enclosed in a bowl-shaped cap. The cap scales on each Acorn are light brown and fuzzy. The Acorns mature every two years and appear in late summer into early fall. These Acorns are eaten by Wild Turkey, Whitetail Deer, Grouse and other small woodland mammals.
The bark is gray and smooth when young, becoming thick, very rough, almost black in sections and deeply furrowed. The inner bark is yellow-orange and very bitter tasting.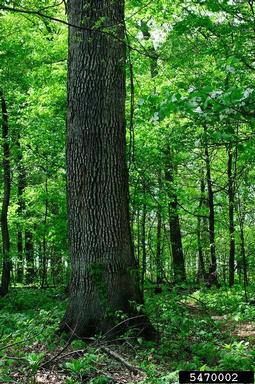 Image Citation (Trunk): Vern Wilkins, Indiana University, Bugwood.org

The Black Oak is not very common in the nursery trade because it can be difficult to transplant. When full grown the Black Oak can reach heights of 135 feet in ideal locations, however the average height is only 60-80 feet tall in most areas. The current Co-National Champion trees are found in Michigan (131 feet) and Connecticut (84 feet). Black Oaks have very prominent tap roots that ensures this species' survival under even poor growth conditions. It is recommended for hardiness zones 6-9. The Black Oak can be harmed by quite a few outside agents including Gypsy Moths, Oak Leaf Caterpillar, Oak Wilt, and Shoestring Root Rot to name a few.
Meet more trees on our Website: www.ArundelTreeService.com or our Blog: www.MeetATree.com
Categories: Meet A Tree
/