Shopping Basket
Your Basket is Empty
There was an error with PayPal
Click here to try again
Thank you for your business!
You should receive an order confirmation from Paypal shortly.
Exit Shopping Basket
Maryland Licensed Tree Experts

China Fir - Cunninghamia lanceolata, is most easily identified by the long, stiff, sharply pointed leaves and oval cones of leather like sharply pointed bracts near twig tips. The China Fir was introduced to the United States and is considered a distinct ornamental. Native to Southeast Asia. In China the China Fir is considered to be an important timber tree and is referred to as the China Fir, even though it is a member of the cypress family. It is fast growing and highly resistant to pests and diseases. It is widely used for landscaping and has medicinal uses.
The China Fir is a Monoecious evergreen tree that can reach heights of 90 ft tall with and irregular cylindrical crown. The leaves are needlelike deep green, stiff, stright or slightly curved 3-6 cm and spirally inserted on each twig. It is in leaf all year, in flower from January to May, and the seeds ripen from August to September annually. The twigs are covered by dead leaves behind 2 or 3 years of living leaf growth. The cones are ovoid, reddish brown at maturity, 1 1/2 - 4 1/2 cm and made up of glossy, leathery, sharly pointed bracts, occuring at twig tips in groups of 1-4. The bark is dark gray to reddish brown in color and fissured to expose the aromatic inner bark. Plant has spines or sharp edges; use extreme caution when handling.
China Fir has many uses outside of just being planted as an ornamental speciman. The bark is a source of tannins and the branches produce an essential oil that is used in the perfume industry. The creamy yellow to white, fragrant wood is uniform in textured, straight-grained, lightweight and durable, though it will rot if it is continually wet. It is easily worked, sometimes turned and resistant to insect and termite damage. It is also used in construction such as ship building (mainly throughout Asia where it is harvested for lumber) where great strength is required. A good quality fuel and a charcoal can also be made from the wood.
Meet more trees on our website www.ArundelTreeService.com or follow our blog https://arundeltreeservice.meetatree.com/
https://arundeltreeservice.meetatree.com/2018/06/ginkgo-gingoginko-ginkgo-biloba.html" target="_blank">https://arundeltreeservice.meetatree.com/2018/06/ginkgo-gingoginko-ginkgo-biloba.html

The Ginkgo Tree - Ginkgo Biloba - is the survivor of all arboreal survivors. There were Ginkgo trees when dinosaurs walked the Earth. The sole remnant of a group of plants even more primitive than Conifers. It is a living fossil, and fossils relating to the modern Ginkgos dating back 270 million years. They were wiped out completely in North America by the Glaciers,and thought to at one time be extinct in the wild the world over. They however thrived in China where the Buddhist monks tended to them in their gardens. When growing in the wild , they are found infrequently in deciduous forests and valleys with fine silty soil. It has long been cultivated in China and is now common in the southern third of that country. They were exported to England in 1754 and to the U.S. about 30 years later, cultivated in both countries for over 200 years it has failed to become significantly naturalized in either.
Ginkgos are also known as Maiden Hair trees, and sometimes referred to by a variation in spelling on the name - Gingko/Gingo/Ginko. They grow to be very tall, they average between 60-100ft, with some specimens in China reaching over 160 ft tall. The tree has an angular crown and long, somewhat erratic branches. This tree is deep rooted which makes it tolerant to wind and snow damage. They grow best in moist soil, but are known to be very tolerant. Young specimens are often tall, slender, and sparcely branched, but with age the crown broadens. In the fall the leaves will turn a bright yellow before they fall often within as short a span as 15 days. Their combination of disease resistance, insect resistant wood, and their ability to form aerial roots/sprouts make them very longed lived. Some specimens in China are claimed to be over 2500 years old.
Being Dioecious, Ginkgos are either male or female. Males produce small pollen cones. Females do not produce cones, instead two ovules are formed at the end of a stalk and after pollenation one or both develop into seeds. The seed is 1-2 cm long, the outer layer is a yellowy brown flesh that is soft and fruit-like. It is attractive in appearance but contains butanoic acid (or butyric acid). The males are generally preferred in urban landscapes because the fruits from the females tend to be messy when they fall onto sidewalks and have a peculiar odor from the butanoic acid (often compared to a strong cheese). The kernel/seed (or Silver Nut) inside the fruit is considered a delicacy in the Orient. The fertilization of a Ginkgo occurs via motile sperm (as in Cycads, ferns, or moss), the sperm have a very complex structure. They adapt well in urban enviroments, tolerating pollution as well as confined soil space, for this reason as well as just being a beautiful tree they are often planted in streetside setting.
Used in both culinary and medicinal settings, the Ginkgo is thought by some to have health benefits and is also considered by others to be an aphrodisiac. However when eaten in large quantities for a number of years (especially by children) the meat of the seed can cause poisoning. Others are sensitive to the chemical in the outer fleshy part of the fruit, having symptoms similar to poison ivy. The extract of Ginkgo leaves contains flavonoid glycosides and terpenoids and have been used pharmaceutically. Medical trials have shown Ginkgo to be moderately effective in improving symptons in dementia patients, but not in preventing the onset of Alzhemiers disease in the average person. Used primarily as a memory and concentration enhancer, and anti-vertigo agent, even though some studies differ in results about its effectiveness. Ginkgos are truely an amazing species of tree all on their own, surviving and adapting for hundred of millions of years.
More Tree Facts www.ArundelTreeService.com or www.MeetaTree.com
The Kentucky Coffeetree -(Gymnocladus dioicus) - is a deciduous medium sized tree with large, coarse, wide hanging pods that are red-brown when ripe. It is best distinguished by it's large leaflets, large flowers, scaly bark and inflated fruit. At maturity it can reach 18-30 m tall and grows in an erect single trunked, with a low branching habit. The crown of the Kentucky Coffeetree is usually narrow or broad, pyramidal or rounded in shape. It is a member of the Fabaceae (Bean) Family and included in the very small Gymnoclaudus genus which only contains 2 species (the other is native to China).
The leaves are large up to 30 inches long, divided into pairs of opposite side stalks with 6-14 oval leaflets on each stalk. The flowers are greenish-white growing in large upright clusters at the ends of each twig. The bark is a reddish brown that becomes gray and irregularly fissured with age. The twigs are stout and reddish brown in color and hairy only when immature. The fruit is a tough, hard, inflated, red to brown woody legume that ranges in size from 15-25 cm long and 4-5 cm broad. Each woody legume contains 4-7 seeds that are hard coated and nearly round in shape.
The Kentucky Coffeetree grows in moist places, floodplains, riverbanks, bases of ravines and valleys. It is found in the Central and Eastern United States from New York and Massachusetts in the North, North Dakota in the West, Georgia, Alabama and Eastern Texas in the South. It is naturalized and planted as an ornamental further East. It grows best in rich, light soils. This species is unusually free of fungus, parasites and insect infestations. It is recorded that early settlers roasted the fruit of the Coffeetree for use as a coffee substitute, this is believed to be a possible origin of it's common name.
More Cool Tree Facts www.ArundelTreeService.com or Follow Us On Our Blog: www.MeetATree.com
The Devil's Walking Stick -Aralia spinosa is best known for it's prickly trunk, umbrella form, and bi-pinnate or tri-pinnate leaves. It is a deciduous shrub or small tree that only reaches heights of only 30 feet tall. It is a member of the Ginseng family (Araliaceae). The main trunk is erect with a single trunk with little or very few ascending branches, the leaves are spreading and grouped near the top of the plant. It is considered to be invasive or annoying by many landowners and gardeners as the plant "pops" up at will and is often hard to kill without grinding out the root system. The Devil's Walking Stick propagates with a rhizomatous root system that extends just below the ground to create a cluster of plants in loose congregation. The individual stems are ramets, or clones, of the singular parent. It is often times also called Hercules Club, Prickly Ash, Angelica Tree, Toothache Tree, Prickly Elder, Pigeon Tree, Pick Tree, Mississippi Hoe Handle, or Shotbush depending on the region.
 
 
 
 
 
Image Citation: Karan A. Rawlins, University of Georgia, Bugwood.org
 
 
 
Devil's Walking Stick was also for medicinal purposes by the Native Americans and Colonial Americans. A decoction of the bark was used to break a fever by increasing perspiration and for intestinal discomfort because of its emetic and purgative properties. The roots were mashed and cooked down to make a topical treatment that was used to treat boils and other skin irritations. Colonial Americans, notably those of African descent, used a similar topical treatment after a snakebite. The water used to boil the roots to craft topical treatments was also retained to treat eye irritations. Devil's Walking Stick is mildly toxic if ingested in sufficient quantities. The toxins are concentrated in the seeds of the berries and can cause gastrointestinal disturbances both mild and severe depending on amounts ingested. There is some theory that Devil's Walking Stick has been the cause of livestock poisoning. In spite of the soft and weak properties of the wood, it has been used to craft small boxes, picture frames, pens, and rocking chairs arms. The stems if cut in the early Spring can be stripped of their thorny external skin and made into plant stakes and ironically walking sticks. It was planted as an ornamental in English gardens during the late 19th Century as a contrarious gesture to conformity as it has a natural appearance that is in no way formal. Today it is not sold or marketed as an ornamental as it is not an ideal planting for any landscape other then a natural one, if planted it is used mainly in reforestation areas.
 
 
 
 
 
 
 
 
The Devils Walking Stick is native to woodland areas, undisturbed lands, thickets, bogs and pine margins from Maine to Central Florida in the East and Missouri to Eastern Texas in the West. It is generally found between 0-1500 meters in elevation. There are only two non-native tree sized species of Aralia that are naturalized in North America, The Japanese Angelica Tree and The Chinese Angelica Tree, both are similar in appearance but not necessarily in size. The bark of the Devils Walking Stick is brown, smooth with slightly rough sections that bear obvious prickles that are very painful when making contact with the skin. The branches are stout, prickly and often have large encircling leaf scars. The leaves are alternate, bi-pinnate or tri-pinnate, compound, with triangular blades, numerous leaflets and a short stalk. The leaves are dark green on the upper surface and pale green on the lower, in the fall the leaves change to a rust or bronze color. The flowers are made up of tiny white petals and sepals, five of each, inflorescence and a large terminal compound panicle. The flowers appear in the early Summer. The fruit is round, 5 stoned purple-black, or lavender drupe that is 5-8 mm long and matures in the Fall.
 
 
 
 
 
 
 
 
 
 
 
 
 
 
Meet more trees and shrubs on our website https://www.arundeltreeservice.com" target="_blank">www.ArundelTreeService.com or follow our blog https://arundeltreeservice.meetatree.com" target="_blank">www.MeetATree.com
The Rubber Tree - Hevea brasiliensis, is also called Sharinga Tree, Rubberwood or Para Rubber Tree. It was only originally found growing in the Amazon Rainforest but was planted in more widespread tropical and sub-tropical areas once the demand for it's naturally produced rubber increased. This tree is a member of the Euphorbiaceae family and has major economic value because of it's milky latex that naturally occurs within the tree. Recorded uses of this and similar tree rubber/latex products date back to the Olmec people of Mesoamerica some 3600 years ago. By the late 1800's rubber plantations were established in the British colonies, Java, and Malaya. Today most rubber plantations outside of the native region occur in tropical portions of South/East Asia and West Africa. Cultivating in South America has not been satisfactory because of leaf blight this leaf blight is a major concern for plantations worldwide as it has not been cured or corrected and is thought to pose a threat to all varieties/clones growing today.
 
 
Image Citation: David Cappaert, Michigan State University, Bugwood.org
 
This latex that occurs in the Rubber Tree is the primary source of natural rubber, it occurs in vessels within the bark just outside of the phloem. The vessels spirals up and around the tree in a right handed helix pattern forming an angle of about 30 degrees and occurring at heights of up to 45 feet. In the wild the tree has been found to reach heights upwards of 100 feet, but this is not very common. Trees grow at a much slower rate once they are tapped for latex and are generally cut down after about thirty years as they usually stop producing at this point so they no longer have economical value. When harvesting cuts are made in the vessels but only deep enough to tap into them without harming the trees growth. In order to grow these trees require tropical or sub-tropical climates, with no chance of frost. One simple frost event can completely wipe out a plantation and be detrimental to production as the rubber becomes brittle and breaks. Latex production is not very reliable the amount and quality is variable from tree to tree. When a tree is tapped (the process is called rubber tapping) the latex is collected in small buckets and looks almost similar to the process used to collect syrup from Maple trees.
 
 
 
Meet More Trees on our website: www.ArundelTreeService.com or Follow our Blog: www.MeetATree.com
The Sassafras - Sassafras albidum is a member of the Laurel family. Having only three varieties, two of which are native to China and Taiwan, and the other is native to the Eastern portion of the United States. Spreading by suckers growing from the roots, in it's natural habitat it is commonly found growing along the woods edge and fields or as the under story of a forest.
Image Citation: (Photo 1) USDA Forest Service Southern Research Station Archive, USDA Forest Service, SRS, Bugwood.org & (Photo 2) The Dow Gardens Archive, Dow Gardens, Bugwood.org
The fruit from the Sassafras is blue in color when mature starting at clear and red when young. Growing from red stems the fruit grow in an almost ornamental pattern. The fruit/berries are a favorite of small birds such as Finches in the Spring and Summer. Like the Amercian Holly, the Sassafras is dioecious, meaning the pistallate and staminate flowers mostly grow on different trees.
Image Citation: Pennsylvania Department of Conservation and Natural Resources - Forestry Archive, Bugwood.org
The Sassafras tree has a unique scent that is recognizable even before the tree is in view, the oil that produces the scent is in the roots, the leaves and even the bark of the tree. Teas can be made by steeping the roots of the tree-Native American are recorded to have used this tea to treat many ailments. The oil was also used as the flavoring for traditional Root Beer prior to it's use being banned by the FDA in 1960 because of the Safrole found in the oil was thought to be a possible carcinogen. This banned was reversed partially in 1994 but new restrictions were put into place to be sure that the Safrole was removed prior to human consumption . File Powder, is a spicy herb made from dried and ground leaves. It was traditionally used by Native Americans in the South, and was adopted into Creole cuisine in Louisiana as a very commonly used ingredient.
Image Citations (Left & Right Photos): Chris Evans, Illinois Wildlife Action Plan, Bugwood.org
The foliage of the Sassafras is very unique having as many as three varying type of leaves. The leaves can vary from single lobes, double lobed or mitten shaped to triple lobed. They are green in color during the growing season and in the fall put on a very beautiful show. The leaves will vary in color in the fall from Yellow, Orange, Scarlet and Crimson.
More Cool Tree Facts www.ArundelTreeService.com or www.MeetaTree.com
The Tamarack- Larix laricina, is a deciduous conifer that can reach heights of 100 feet or more. It is native to Canada, Alaska and the Northeastern portion of the United States (South through Cranesville Swamp in Garrett County, Maryland) growing in elevations from 0-1200 m. Tamarack is generally found growing in well drained uplands and acidic soils with other Northern Conifers such as Spruce, Balsam Fir and Jack Pine. Occasionally Tamarack is also found growing in swamp areas of the far North, reaching the Arctic tree line.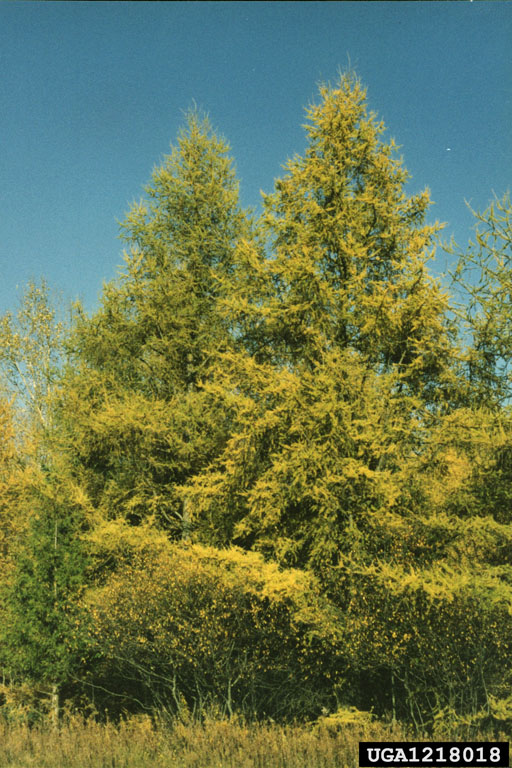 Image Citation: Bill Cook, Michigan State University, Bugwood.org

The Tamarack has an ovoid or conical crown, slender flexible orange-brown twigs. The leaves are needle like 2-3 cm long, light green in color becoming darker in the summer and then yellowing in Autumn before falling off. The needles are in tufts of 15-25 on each shoot. The pollen cone is spherical 3-4 mm in diameter and born on short shoots. The seed cone is larger 1-2 cm long but also spherical, red when young becoming yellow-brown when mature. Cones generally fall from the tree after maturing or can remain for multiple years in some cases. Tamarack is very intolerant of shade, it can only tolerate some shade during the first several years, but must become dominant to survive. When mixed with other species, it must be in the over story never surviving as an understory tree. Tamarack is good at self-pruning, and boles of 25 to 30 year old trees may be clear for one-half or two-thirds their length.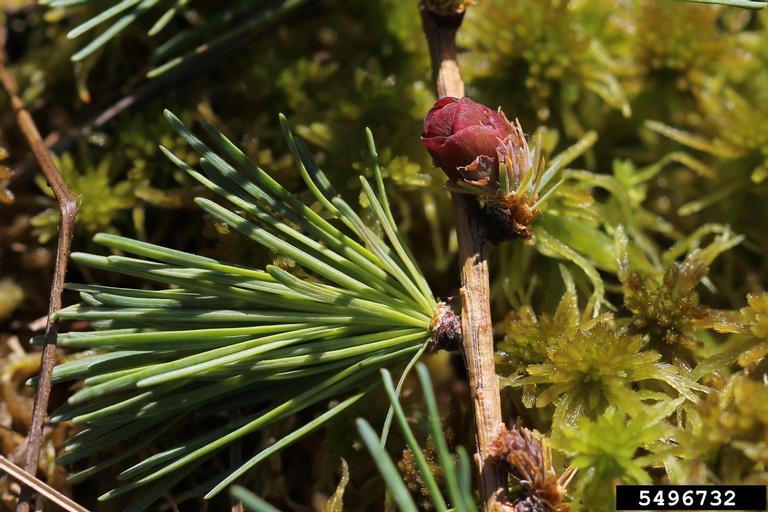 Image Citation: Rob Routledge, Sault College, Bugwood.org

The Tamarack tree was a very useful resource to the early Native Americans. Native Americans frequently used the Tamarack tree for various wood working and medicinal purposes. The needles were recorded to be made into a tea and used as an astringent. This tea was also used to treat dysentery and diarrhea. The Gum from Tamarack Sap was chewed for indigestion. The inner bark of the Tamarack was finely chopped and applied to burns to assist in healing. The wood was not only burned for firewood, but crafted into canoes, and snow shoes.  The word tamarack comes from the Algonquian and means "wood used for snowshoes."
Meet more trees on our website www.ArundelTreeService.com or follow our blog http://arundeltreeservice.meetatree.com/
The Java Plum -  Syzygium cumini, Is a fast growing evergreen tree that reaches heights of 30-80 feet tall depending on the location/conditions planted.  It is considered a tropical tree and is a member of the flowering plant family Myrtaceae.  It grows in an erect single trunk they could be straight or crooked in form with a rounded crown.  The tree was introduced to Florida in 1911 by the USDA, it originated from Asia, specifically India and Burma.  It has become established in Maritime hammocks, lake margins, flatwoods and rockland throughout Central and Southern Florida.  It is similar to the Malabar Plum Syzygium jambos but can be distinguished by the different sized leaves and fruit.  It is treated by the state of Florida as an invasive species. It can be found growing from Sea Level to 6000 feet above in the tropics. It grows best in areas with very high rain or humidity levels.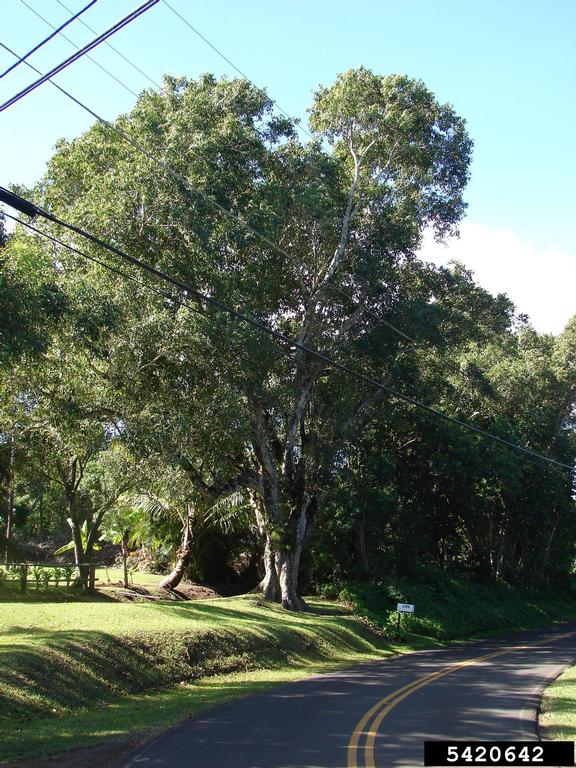 Image Citation: Forest and Kim Starr, Starr Environmental, Bugwood.org

The leaves of the Java Plum are opposite, simple, thick, leathery, elliptic or oblong in shape with a rounded base and tip.  The upper surface of the leaves are lustrous and dark green in color with visible yellow lateral veins, the lower surface is a yellow-green in color and duller in sheen. Leaf blades are 7-18 cm long and 3-10 cm braod with a light yellow petiole of 5-25 mm long.  The leaves are said to smell similar to turpentine when crushed. The flowers are individually small in size only reaching 7 mm long, with 4 petals, fused in a rounded cap that opens and exposes a mass of white or pink threadlike stamens.  The flowers are produced in clusters 5-6cm long on the wood of the previous year.  Flowers on the Java Plum occur year round.  The fruit is fleshy with a single seed, it occurs as a oblong or ellipsoid berry that is 1-2.5 cm long and 2 cm in diameter.  When young the fruit is green becoming pink, red and then a purple-black.  The fruit matures year round the same as the flowers.  The pulp ranges from purple to white and is very juicy, with a sweet flavor in high quality varities to astringent flavor in poorer varieties.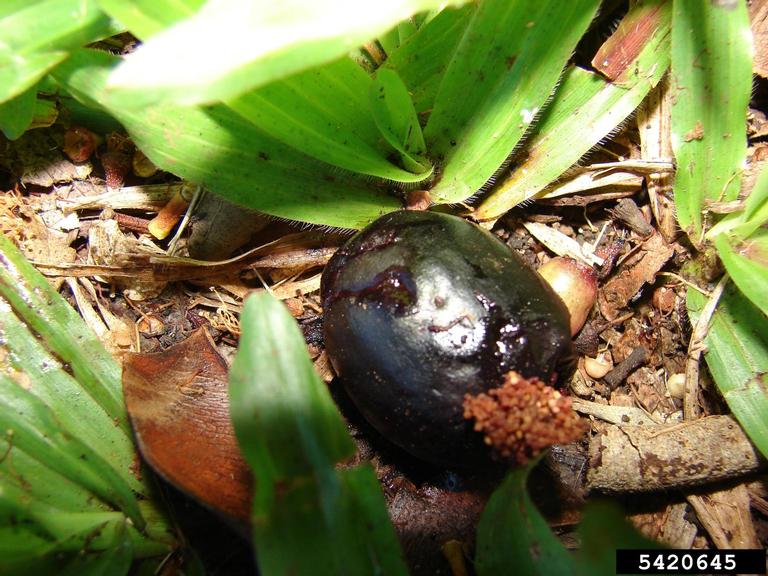 Image Citation: Forest and Kim Starr, Starr Environmental, Bugwood.org

The products of the Java Plum are used for various purposes.  The fruit is used to make wine and vinegar, they are also a high source of Vitamin A and Vitamin C.  The fruit seeds are used in alternate healing processes, Unani and Chinese Medicine (digestive ailments) and Ayurveda (diabetes control).
Meet more trees on our website www.ArundelTreeService.com  or follow our blog arundeltreeservice.meetatree.com/
The Sugarberry - Celtis laevigata is a small deciduous tree that grows upwards of 95 feet, they often flower and fruit when young. The Sugarberry grows in an upright erect form with an open spreading crown. The simple bark is grey in color and smooth when young, becoming marred with cork or wart like ridges / growths. The bark marking is often caused by bird excavating the bark to access the sweet sap, this in turn attracts insects to the wounds. The leaves are simple and alternate usually thin and paper like in texture, lanceolate or ocassionally ovate with a rounded, flattened or asymmetric tip. The upper surface is pale green and hairless, smooth surfaced with visible veins.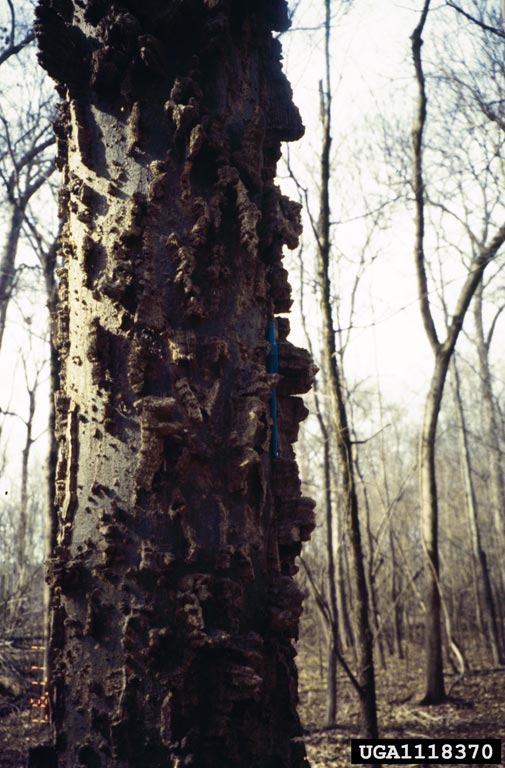 Image Citation: Brian Lockhart, USDA Forest Service, Bugwood.org
The Sugarberry is a member of the Cannabaeceae (Hemp) family. Sugarberry is usually found growing in sandy loam or rocky soils along streams, bottom lands, and in woodlands. The Cannabaceae Family is made up of 11 genera and 180 species of shrubs, trees, herbs and vines - 14 species are found in North America only 9 are native others are naturalized. The woody members of this family are most easily identified by their alternate simple leaves with 3 primary veins from the base and inconspicuous flowers, and were originally classified as members of the Elm family (Ulmaceae) but recent studies suggest they should actually be included with the Cannabaeceae family.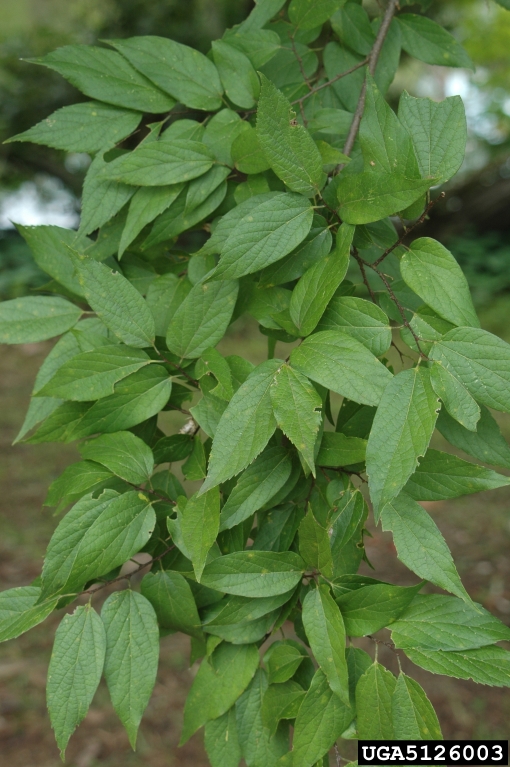 Image Citation: Chris Evans, University of Illinois, Bugwood.org
Sugarberry has long been used for many purposes by a variety of Native American tribes. The Houma used a concentrate made from the bark to treat sore throats and ground up shells to treat venereal diseases. The Comanche would beat the fruits to a pulp and then mixed with animal fat, rolled into balls, and roasted in the fire as food. The Acoma, Navajo, and Tewa all consumed raw Sugarberries for food. The leaves and branches were boiled by the Navajo to make dark brown and red dye for wool.
Meet more trees on our website: www.ArundelTreeService.com or follow our blog: www.MeetATree.com
The White Mulberry - Morus alba - is a small to medium size tree native to China.  It is recorded to have been widely cultivated in China for over four thousand years to provide feedstock for silkworms. It has been cultivated for Silkworm raising and fruit so much so, that it is hard to determine where the orignal natural range lines begin/end.  It's leaves are also used as feedstock for livestock in areas where the climate does not allow for adequate ground covers.  It has been naturalized throughout most of the warmer temperate regions of the world including North America, India, and Southern Europe.  In some areas of the United States it is included on the invasive species list as it's ability to hybridize with the native Red Mulberry causes concern for the future of the Red Mulberry species.  If not properly managed this plant has a habit of becoming weedy and invasive, even displacing more desirable vegetation. It is found in hardiness zones 4-9 in North America.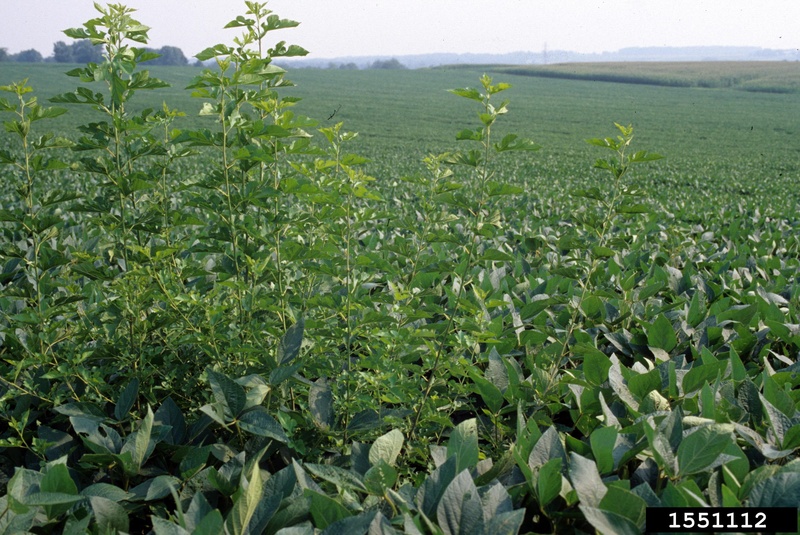 Image Citation: Ohio State Weed Lab , The Ohio State University, Bugwood.org
Mulberry fruits are unique because each apparent fruit is actually made up of a cluster of fruits and the fleshy swollen part is the swollen calyx. The fruit is 1–2 1/2 cm long on average.  When found growing wild the fruit is a deep purple, but in many cultivated plants it varies from white to pink. The flavor is sweet but bland, unlike the more intense flavor of the red and black mulberry fruit. The fruit is enjoyed by many wild birds, hogs and poultry.  Seeds are often spread by birds consuming the fruit.  The flowers are single-sex catkins, male and female flowers are usually on separate trees although they may occur on the same tree but usually not connected to one another. The pollen of the White Mulberry has an extremely rapid release, moving at twice the speed of sound.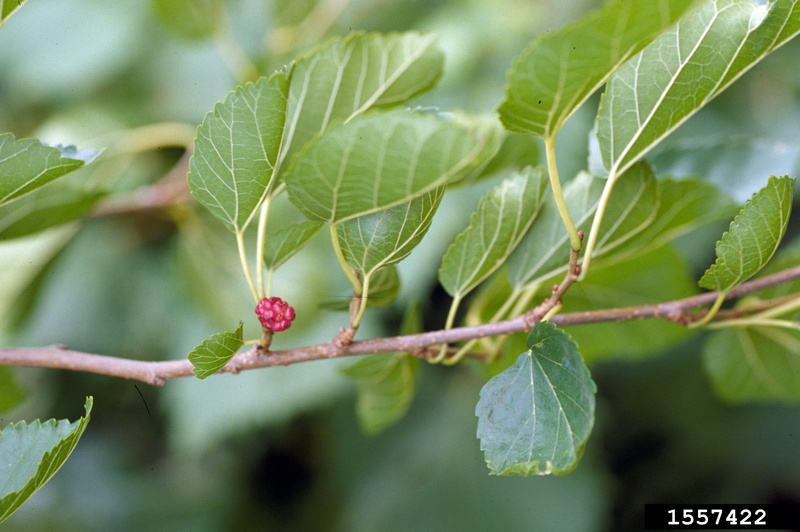 Image Citation: John Cardina, The Ohio State University, Bugwood.org
When young the leaves on the White Mulberry can reach up to 12 inches long, while a more mature tree may only have leaves that are 2-6 inches long.  The leaves are very interestingly shaped and can have as many as five different shaped leaves on one tree.  The leaf shapes vary from a simple ovate to a more intricately lobed version.  During the growing season they are a bright green color changing to a pale to bright yellow in the fall.  In very warm climates the tree may act as an evergreen retaining it's leaves year round.  At maturity the White Mulberry reaches an average height of 30-65 feet.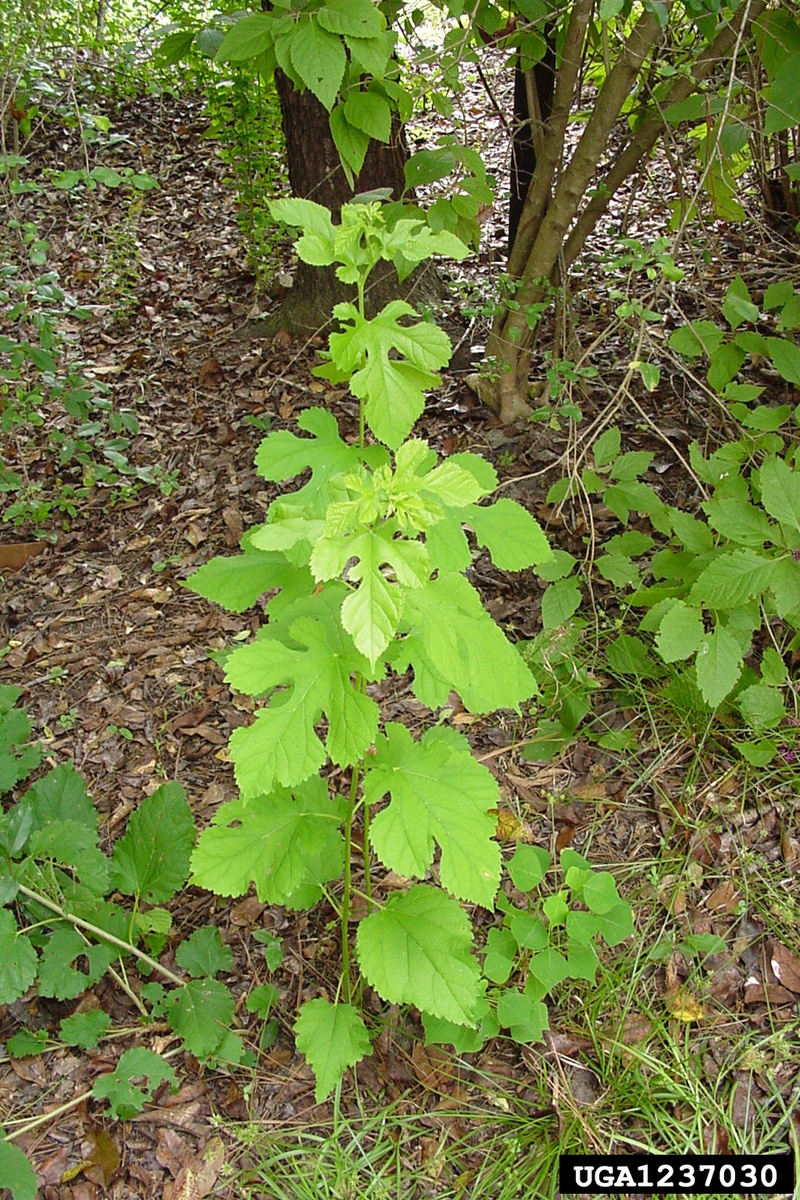 Image Citation: Chuck Bargeron, University of Georgia, Bugwood.org




The White Mulberry is said to have some medicinal qualities and has been used throughout history for various ailments.  When taken internally the leaves are said to treat sore throats, eye infections, nose bleeds and the common cold.  The stems have been used in the treatment of rheumatic conditions, high blood pressure and spasms.  The fruit when eaten is said to to help ease dizziness, diabetes and constipation.  The root bark has been used in Asian cultures as a traditional medicine and antibacterial combatant against the micro-organisms that cause food poisoning.




Meet More Trees on our Website:   www.ArundelTreeService.com  or our Blog:  www.MeetATree.com







s 4/1/2013 - 4/7/2013

Amy: Posted on Friday, April 12, 2013 1:44 PM

4/1/2013

Tradition holds that the wood of the cedar tree holds powerful protective spirits for the Cherokee Tribe. It is believed that the "Creator" placed their spirits in a newly created tree. This tree was named a-tsi-na tlu-gv {ah-see-na loo-guh} or Cedar tree.

 

4/2/2013

Many Cherokee carried a small piece of cedar wood in their medicine bags worn around the neck.

 

4/3/2013

Cedar wood has been placed by the Cherokee above the entrances to their homes to protect against the entry of evil spirits.

 

4/4/2013

When you smell the aroma of the Cedar tree or gaze upon it standing in the forest, remember that if you are Tsalagi / Cherokee, you are looking upon your ancestor.

 

4/5/2013

Cherokee women were given a tea made from the inner bark of the Wild Black Cherry to relieve pain.

 

4/6/2013

The Flambeau Ojibwa prepared a tea of the bark of Wild Cherry Tree for coughs and colds, while other tribes used a bark for diarrhea or for lung troubles.

 

4/7/2013

The Cree Indians used an infusion of the inner bark of The Aspen Tree as a remedy for coughs.

0

/